Report: Nicki Minaj Used Quavo to Piss Off Cardi B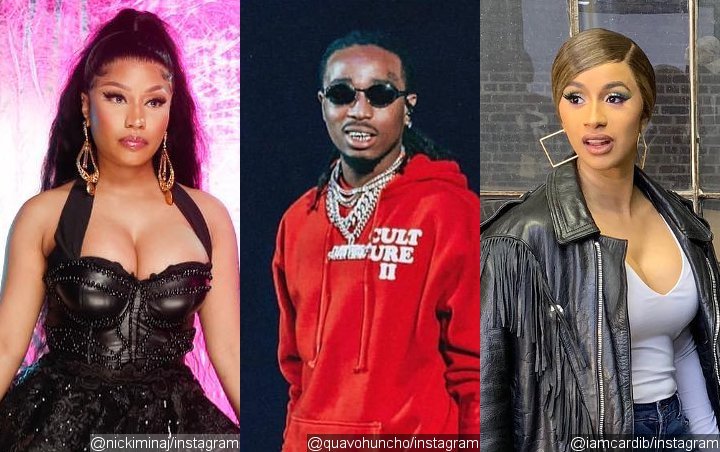 Quavo allegedly is never an option for Nicki as the black Barbie 'just wanted to use Quavo to make Cardi mad.'
AceShowbiz –
Quavo hinted on his latest track "Huncho Dreams" that he had an intimate moment with Nicki Minaj. The rapper insinuated that they both slept together as Quavo rapped, "The queen can't flex on a young bull (Flex) / Made her scream (Scream)." But is that true?
A source close to the "Barbie Dreams" hitmaker claims to HollywoodLife.com that the sexual encounter never happened between the two stars. If anything, it's said that the Trinidadian beauty just wanted to use the Migos rapper to piss off her rap rival Cardi B, whose husband Offset is bandmate of Quavo.
');(playerPro=window.playerPro||[]).push(i);})();
According to the insider, the Young Money femcee just spent time with Quavo "but never slept with him." The source added that Nicki "just wanted to use Quavo to make Cardi mad."
The "Chun-Li" rapper also addressed the rumors of her sleeping with Quavo in the latest episode of Queen Radio. "A n***a can't f**k me, I f**k you. And when I'm done, f**k you'!! They think their game got the p***y. Women choose the man. No u dumb f**k. I just wanted to f**k, & used you to *ahem . . . service me," she said.
The previous source goes on saying, "Rappers like Quavo can't get women like Nicki and they have to settle for Instagram thots."
It is also said that the "Bang Bang" raptress is done with dating rappers after previously being romantically linked to Meek Mill and Safaree Samuels. "After dating Meek, and after everything she went through with Safaree, Nicki vowed not to mess with rappers or guys in the industry again because they are messy and she knows they'll spill secrets of their relationship," shares the source.
Quavo allegedly is never an option for Nicki as the source claims, "Nicki doesn't want to settle for someone who isn't as successful as her, and she knows Quavo and a lot of these rappers are in record deals that will eventually leave them broke. She is too smart and knows better than to mess with Quavo."