Demi Lovato Quits Twitter, Apologizes for Laughing at 21 Savages Memes After Backlash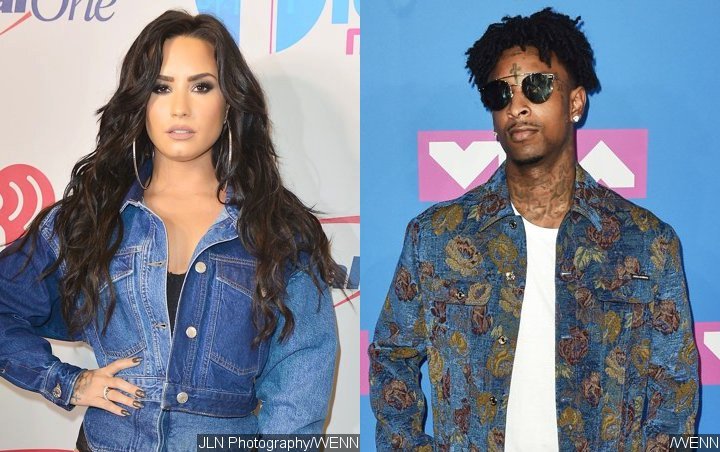 Many people, including rappers Wale and Offset, have come at the former Disney darling for finding the memes funny.
AceShowbiz –
Demi Lovato is no longer on Twitter. The former Disney darling deleted her account from the social media platform on Sunday, February 3 after getting backlash for laughing at memes about 21 Savage, who was taken into custody by Immigration and Customs Enforcement agents for allegedly overstaying his visa.
When news about the rapper, who is actually British and entered the U.S. illegally in 2005, hit the internet, it subsequently became memes. While some made jokes about the deportation, some other found the fact that the rapper is British so funny that they couldn't help but turn it into a meme. Demi was among the people who laughed at the memes.
"So far 21 savage memes have been my favorite part of the Super Bowl," she wrote on the micro-blogging site.
Demi Lovato gets criticized for joking about the 21 Savage memes that were made after the rapper was detained. pic.twitter.com/ga9lcrBNQL

— Pop Crave (@PopCrave) 4 Februari 2019
It didn't take too long for people to start calling her out, including rappers Wale and Offset. "Why is somebody freedom funny… I don't get the joke," Wale quote-tweeted her message. "A lot of people were sending you love light , prayers etc . When people were making jokes about u at a rough time. A lot of people .Bless up."
Why is somebody freedom funny … I don't get the joke https://t.co/Eyf4clympS

— Wale (@Wale) 4 Februari 2019
A lot of people were sending you love light , prayers etc . When people were making jokes about u at a rough time. A lot of people .Bless up https://t.co/9sxe1rJuA2

— Wale (@Wale) 4 Februari 2019
Meanwhile, the Migos member appeared to subtweet her, "ALL THE MEMES AND S**T AINT FUNNY WHEN SOMEBODY GOING THROUGH SOME. PRAYING FOR MY DAWG AIN'T S**T FUNNY HIS FANILY [sic] DEPENDING ON HIM."
ALL THE MEMES AND SHIT AINT FUNNY WHEN SOMEBODY GOING THROUGH SOME
PRAYING FOR MY DAWG
AINT SHIT FUNNY HIS FANILY
DEPENDING ON HIM

— OFFSET (@OffsetYRN) 4 Februari 2019
Responding to the criticism, Demi tried to clarify herself and pointed out that she wasn't laughing at the fact that 21 Savage might face deportation. "If you're gonna come at me for making a joke, try coming at me with some original not involving drugs," she said, before adding in another tweet, "FYI this is the s**t I'm laughing at… not the fact that anyone is getting deported."
The meme that Demi was talking about featured an image of someone writing with a feathered-tip pen and a bottle of ink next to it. The meme was captioned, "This how 21 Savage be writing his verse."
Demi Lovato clarifies her tweet about the 21 Savage memes on her Instagram story:

"I wasn't laughig at anyone getting deported. I know that's not a joke..not have I EVER laughed at that" pic.twitter.com/Apepv5lb1H

— Pop Crave (@PopCrave) 4 Februari 2019
Despite the clarification, people still criticized her. It prompted Demi to delete her account before apologizing on Instagram Stories. "Wasn't laughing at anyone getting deported. I know that's not a joke… not have I EVER laughed at that," she said. "The meme I posted/was talking about was of him being writing with a feather pen. Sorry if I offended anyone." She added, "But it's no excuse to laugh at someone's addiction, let alone their OD."